SeaPort-e is the Navy's electronic platform for acquiring support services in 22 functional areas including Engineering, Financial Management, and Program Management.  The Navy Systems Commands (NAVSEA, NAVAIR, SPAWAR, NAVFAC, and NAVSUP), the Office of Naval Research, the United States Marine Corps, and the Defense Threat Reduction Agency (DTRA) compete their service requirements amongst 1800+ SeaPort-e IDIQ multiple award contract holders.  The SeaPort-e portal provides a standardized, efficient means of soliciting offers from amongst the diverse population of large and small businesses and their approved team members.  All task orders are competitively solicited, awarded and managed using the SeaPort-e platform.  Since nearly 85% of its contract–holders are small businesses, the SeaPort-e approach to acquiring services provides opportunity that fuels the Nation's engine of job growth.
Overview of Act Too Consulting's Capabilities
Act Too Consulting is a Women-Owned Small Business with extensive experience in providing products and services for the Navy and Marine Corps. Our in-depth understanding of the day-to-day challenges faced by acquisition personnel in an ever-changing environment enable us to immediately provide value with all our services. As a prime vendor on Seaport-e, Act Too Consulting specializes in providing services supporting the following functional areas on contract N00178-12-D-6747.
3.18.2 Professional Development and Training Support
This functional area includes organizational development and process improvement training activities.
Our Products and Services that map to this functional area include:
Organization Development Consulting
Executive Coaching
Customized Cohort Based Leadership Development Programs
Short Programs on Professional Development Topics such as:
Getting Results with Workplace Communication
Leading in a Complex Environment
Effective Team Development and Interaction
Understanding Gender in the Workplace
Care-Full Leadership
Myers-Briggs Type Indicator and Leadership Style
Mastering Self-Leadership
Thinking and Responding Strategically
3.21.2 Analytical and Organizational Assessment Support
This functional area consists of analytical and organizational support functions, Human Capital Strategy processes and programs, organizational development effort and organizational process improvement efforts.
Our Products and Services that map to this functional area include:
Organizational Research and Studies
Customized Survey Development and Data Analysis
Organizational Assessments
Cultivation of Collaboration Across Organizational Boundaries
Organizational Network Analysis
Strategic Learning
Points of Contact for additional Seaport-e information and feedback on our services:
 Dr. Joan Goppelt
joan@acttooconsulting.com
760-301-5566
Task orders:
Team Members:
Though there are currently no team members on this contract, Act Too is always searching for opportunities for collaboration and teaming. If you are interested in discussing becoming part of the Act Too Consulting SeaPort-e team, please contact Dr. Joan Goppelt.
Act Too Consulting's Quality Assurance Program
Act Too continually evaluates quality of professional development and training services through use of the Kirkpatrick evaluation model, shown in the figure below. During negotiation of training requirements, Act Too works with the customer to define the level of evaluation the customer needs for the development activity. At a minimum, and included in the basic delivery Act Too collects Level 1 (Reaction) through customized feedback forms for each service delivery and folds back the feedback into subsequent deliveries. If the customer requires higher levels of evaluation, then Act Too builds those into their firm fixed price proposals as assumptions for the customer to verify.
For other organization development activities, Act Too collects feedback from the customer as to whether the objectives were met or exceeded from the customer's perspective. The results of these debriefing sessions are fed into subsequent services.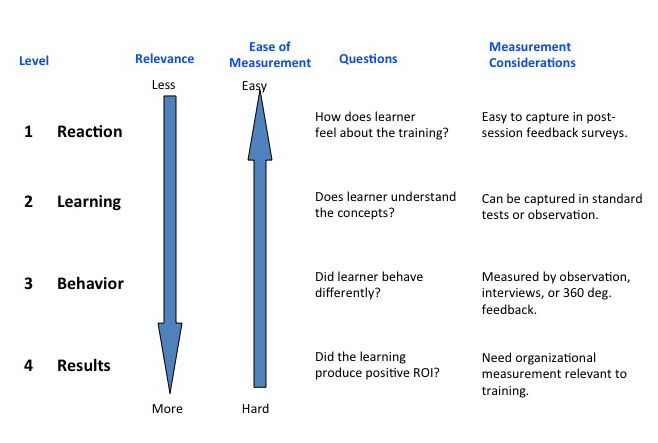 Act Too responds to customer questions and requests within 24 hours of receipt. The Act Too employees remains accessible via e-mail through mobile technologies. We use many of the practices we teach in our leadership development courses to effectively work through potential conflicts that arise during product delivery. In particular, Act Too ensures that good agreements are made and documented regarding what needs to be delivered when. Act Too documents all assumptions about what will be provided by Act Too and what is required from the government customers. Act Too understands that requirements may change and employ effective methods to remain flexible and responsive to a customer's demanding schedules.