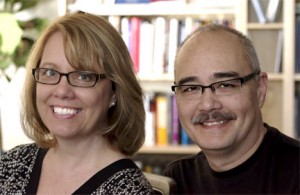 Since 2008, Act Too Consulting, Inc. has provided dialogic organization development and strategic learning services to a variety of clients. Our experiences form who we are and how we approach our practice.
Keith spent his childhood in Hawaii and Nebraska. Being from a multi-cultural family, he has keen ability to translate between cultures. Keith's early education combined his interests in Physics and Philosophy. Keith's extensive career includes being a systems engineer, project manager, and internal consultant. During that time his interest in systems, complexity, and culture eventually led him to obtaining a PhD in Human and Organizational Systems from Fielding Graduate University. Keith's research explored how culture is talked about and what talk about culture does at work. Keith is a life long learner, his most recent focus in on the neuroscience of leadership, how culture is created, and how communication creates change in organizations.
Joan grew up on a family farm in South Dakota, where most of her family still resides. After receiving her Math degree from South Dakota State University she moved to California and away from the harsh winters. She has worked as a software developer, IT project manager, and internal consultant. Also a life long learner she continues to collect degrees with the most recent being a PhD in Human and Organizational Systems from Fielding Graduate University. Joan's research explored how employees' conceptualize feedback in organizations. Joan is ever focused on putting new concepts into practice.
Together their individual styles complement each other as they serve the clients' needs. They blend concepts of complexity, communication, and leadership when working with clients . They customize each client engagement and enjoy working with forward thinking clients. They thrive at new challenges and adapt quickly to emerging client needs. They keep on top of the newest trends and continually evolve their programs and practice. 

. They easily move within the role of instructor, facilitator, coach, and researcher. Blending these roles as needed to meet client needs.
They presented sessions on "Dialogic OD in Day-to-Day Complexity" and "Power in the Network: Using Internal Networks to Increase Collaboration Across Communities" at the OD Network conference in 2013.
Publications :
Goppelt, J., Ray, K. W., & Shaw, P. (in press). Dialogic Process Consultation: Working Live. In G. Bushe & R. Marshak (Eds.), Dialogic Organization Development: The Theory and Practice of Transformational Change: Berrett-Koehler.
Ray, K. W., & Goppelt, J. (2013). From special to ordinary: dialogic OD in day-to-day complexity. OD Practitioner: Journal of the Organizational Development Network, 45(1), 41-46.
Ray, K. W., & Goppelt, J. (2011). Understanding the effects of leadership development on the creation of organizational culture change: a research approach. International Journal of Training and Development, 15(1), 58-75.
Goppelt, J., (2009), Feedback conceptualization in organizations. UMI.
Ray, K. W., (2009), Culture talk: Cultural referencing by work-related dyads. UMI.